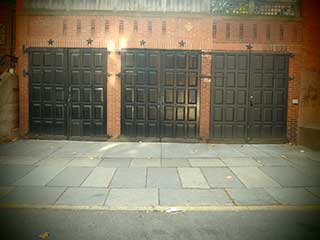 When you got an automatic opener installed in your home, you probably had one thing in mind, security. Automatic systems offer you not only convenience, but a relative peace of mind with regards to the safety of your family and home. But how secure is your door, really? If you're feeling unsure, or indeed overly confident about the safety your entrance is providing for you and yours, have a read through these possible security risks which your garage could have right now.
The doors themselves will also decay or rot if they are not properly treated, making them weak and easy to break, even if they're metal.
The Garage Door Hardware
Firstly, let's start with the actual parts of your system. It's no secret that, over time, the parts of your opener will most certainly give in to wear and tear. So if you're neglecting to perform routine garage door maintenance, then there is a strong chance that some of the parts could have a negative impact on the security of your home.
Take the door springs for instance, if they are old, rusty, cracked or worn, then your entrance can be easily slipped wide open by anyone who knows what they're doing and wants to gain entrance to your home. And the funny thing about burglars, they generally know exactly what they are doing. So keep an eye on the springs, frames and brackets which are meant to give your gate the stability it needs to keep it secure.
Your Garage Door Software
All types of remotes can be hacked by outsiders who know a thing or two about your home's garage door receiver. Care should always be taken to not lose remotes, and if you do, it is wise to reprogram your receiver so that whoever finds your remote can't use it against you.
Those who have opted to have receivers that connect to the internet or Bluetooth to operate their automatic opener using a phone or a tablet, have further things to consider. The safety of your home's internet and network systems are important for maintaining the protection provided by your garage doors. Make sure your Wi-Fi passwords are not easily guessed at, change it periodically and contact an IT professional to make sure that your home's cyber security is up to scratch.
While having an automated system is certainly a plus for your security, it certainly isn't fool proof. There is always a way for criminals to exploit any system, no matter how secure it may seem. Keeping a closer eye on your openers is an essential part of maintaining your home's security.