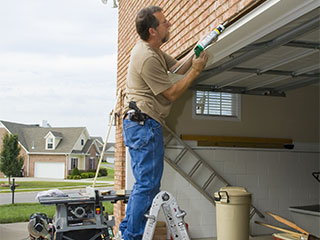 Even though automated garage doors are such complex devices, some simple cleaning and maintenance will go a long way to ensuring that it works at its best.
There will, however, come a time when one of your garage door's components will need to be fixed or even replaced. It's important that you use a reputable and reliable company to repair your garage door and opener. That's where we come in! We have plenty of years' worth of experience in the industry and this really shows in our quality workmanship.
We'll fix your broken garage door springs, your faulty opener or your rollers and cables. We'll get the job done quickly and professionally.
Finding the fault with your opener
Your electric opener is essential in giving you the automated garage door experience. At the touch of a button, this little device will allow your garage door to open and close. Your door may use a chain drive opener, a belt drive opener or a screw drive opener. In addition, you may have one of many brands including Liftmaster, Chamberlain or Genie. We can fix or replace whatever type of opener you have if its broken and get your garage door working again.
Getting your sectional garage door working again
Sectional garage doors are really beautiful and depending on the design, can be quite eye-catching. However, if one of the panels are dented or broken, it could negatively impact the functionality of your garage door, and could place added pressure on the moving parts of your door. Don't put your door, or yourself, through this stress. Our comprehensive garage door maintenance services include the replacement of these broken panels. Not only will this make your door look as good as new again, it will also allow it to perform efficiently and effectively.
Our garage door maintenance services include spring replacement
Your heavy garage door needs quite a bit of help opening and closing. This is where its springs come in. Your door makes use of either torsion springs or extension springs. These components are responsible for quite a weight and should therefore only be fixed by professionals. That's where we come in again! We'll replace your garage door springs and get your door working again!
Contact us today
Garage Door Repair Longwood is one of the premier repair businesses in the area so give us a call now if you need any additional information about our services!
But wait, there's more! We also offer:
Garage Door Tune Up Services
Genie & Liftmaster Opener Services
Oil Tempered Torsion Springs
Emergency Garage Door Repairs