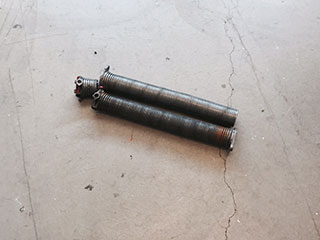 While different parts of your garage door can break, springs are by far the most problematic when they do. You see, they support the panels and utilize a counterbalancing force to help you lift the garage door without effort. Therefore, broken springs make it harder to open the door, and even potentially dangerous to do so. Of course, replacing broken garage door springs without the proper tools and experience can also be dangerous. That's why our same-day broken spring replacement solutions offer Longwood area homes the fast and cheap results they need.
Should I Open a Garage Door With Broken Springs
Only if it's an emergency. You see, without working springs, the garage door doesn't have the regular support and force to lift and lower normally. The opener is not the part that provides continuous support, and it can get damaged if you open a garage door with a broken spring. So to solve such problems, it's important to get the broken spring replaced quickly. That way, you don't have to be hindered by a garage door in a precarious condition. Of course, we'd be remiss to not discuss the potential dangers. Broken garage door spring replacement can be more dangerous than people expect.
How To Perform Safe Broken Spring Replacement
When installing a new spring, the coils become loaded with tension, and this is why it's potentially a dangerous task. If you lack the proper experience and tools, don't attempt to replace a broken garage door springs on your own. When loaded with too much tension, even new springs can break. That's not a good situation to be near when it happens. That's why broken spring replacement for Longwood garage doors is one of the most common service calls we get. Spare yourself the risk and potential injury. Let the local technicians in your area replace broken springs on your garage door safely and quickly.
Broken Longwood Garage Door Springs Replaced Same Day
When there's a need, there's a solution, and our nearby repairmen offer the most affordable and fast broken spring repairs around. Having some unexpected problems? Garage door broke a spring all of a sudden? No need to stress. With services available 7-days a week, Garage Door Repair Longwood offers the quickest broken spring replacement solutions you need. You can contact us for help on any given day.