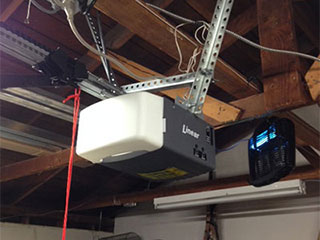 We Install and Repair Garage Door Openers
When you need a garage door opener installed or repaired, call us for prompt, professional service. Our technicians service all brands and all types of openers. We carry the tools and parts needed to expertly install a new opener, or repair an existing one. We have experience with all kinds of repair issues. You can rely on our professional team to get your repairs completed or your new opener installed, call us today!
Need a new garage door opener installed?
Are you thinking about having a new opener installed?
"During the recent storm when I had to get out to open my garage door in the weather, I decided it was finally time to have an automatic opener installed!"
Our professional technicians are equipped to install an automatic system on your door, no matter what type of door you have or what type of opener you need installed. LiftMaster, Chamberlain, Genie, Craftsman, Direct Drive, and more – we install them all! Not only all brands, but all types: chain, screw, belt, and direct drive. We install new openers on doors that roll up, swing up, swing out, and slide to the side. You can trust our experts to handle any installation job!
Need a garage door opener repaired?
Our technicians are experienced with all types of repairs. We can handle all repair jobs, big or small.
"My automatic opener is making a noise like 'Gaa-runk! Gaa-runk! Gaa-runk!' when I open the door!"
If your opener is making a strange noise when it operates, don't worry – we speak that language! Usual noises, squeaks, or squeals can be indicators that something is amiss and that service is needed. We will track down that noise and quiet it down. Don't wait until it gets worse – a seemingly minor issue that is making noise can lead to more costly repairs if not treated.
"Hello? My opener has fallen off of the ceiling onto the floor! Thank goodness no one was in the garage when it happened!"
From minor repairs to more drastic issues that may require a complete replacement, our technicians are able to complete the task expertly and professionally.
Call Us for Expert Garage Door Opener Service!
Automatic openers provide added convenience and safety. We handle all tasks, big or small. We work on all types and models of doors and operators. Our technicians are equipped with the skills, tools, and parts to successfully and expertly complete your job. When you need service or installation, call on us for prompt, professional service! Call us today!
Looking for more? We also offer:
Part Replacement & Lubrication
Opener Sensor Replacement
Garage Door Cable Replacement
Torsion Spring Adjustment